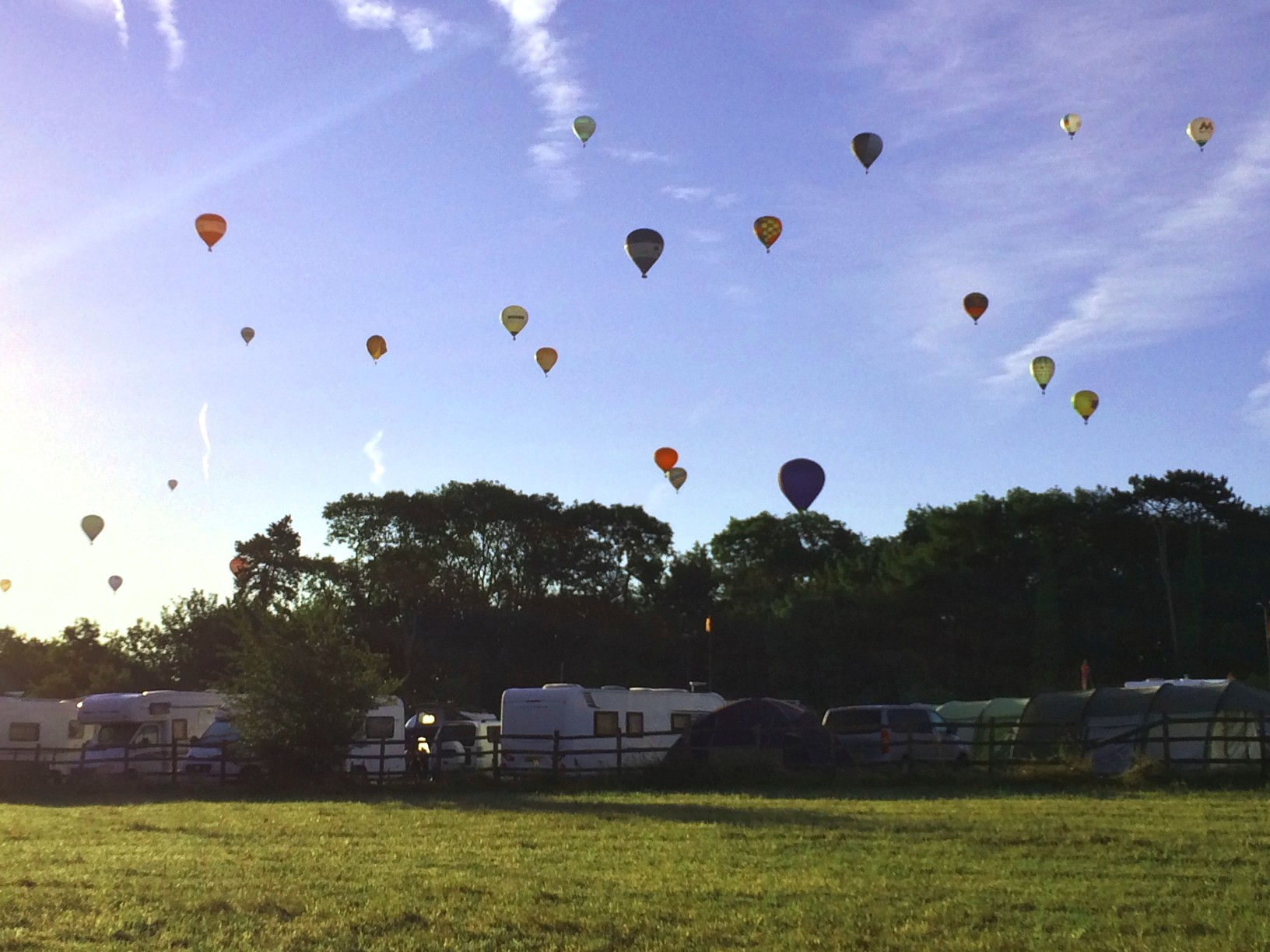 Balloon Fiesta Camping at Cotham Park
Cotham Park offers camping facilities for the Bristol Balloon Fiesta weekend. Motorhomes, campervans, caravans and tents are all welcome. We are located just off Beggar Bush Lane, about 30 minutes walk from the main Balloon Fiesta site.
The Balloon Fiesta event details and programme can be found on the official Fiesta website .
Bookings are now closed for 2023.
This page will be updated with information for 2024 in due course. Please check back on this page for updates, there is no need to contact us.
Amenities
Showers, flush toilets and changing facilities.
Outdoor drinking water access and washing up facilities.
Chemical toilet disposal.
Well-stocked bar with late licence all weekend.
Kitchen serving hot breakfast, lunch and dinner.
Snacks, bags of ice and cold soft drinks, beer and cider also available to buy.
Pitches
All pitches are 9m x 6m (30' x 20'). The minimum stay is 2 nights.
Pitches are available from 1pm on the day of your arrival until 1pm on the day of your departure.
You will park on your pitch. Any additional vehicles can be parked separately in our car park for £5 per night.
Prices
Wednesday 9th August - £30
Thursday 10th August - £30
Friday 11th August - £35
Saturday 12th August - £35
Sunday 13th August - £30
What can I have on my pitch?
Caravans - one towing vehicle and one caravan.
Motorhomes/campervans - one vehicle, plus one awning/gazebo/pup tent/etc.
Tents - one vehicle, plus one large tent or two small tents.
Important Information
You must pay the full amount in advance to secure your booking.
Guests with motorhomes/campervans are responsible for checking the length of their vehicle before arrival. We are unable to accommodate vehicles longer than 9 metres (30 feet).
You will park on your pitch. Guests with caravans or tents must ensure that a 9m x 6m (30' x 20') pitch is large enough to accommodate their vehicle as well as their tent/caravan.
No specific pitches can be guaranteed. We will do our best to accommodate requests for specific pitches made at the time of booking.
If you have any questions, please get in touch via our contact page before making a booking.
Frequently Asked Questions
How do I make a group booking for more than one pitch?
If you book multiple pitches in the same order, we will automatically try to place these pitches together. For separate orders, please use the text field at the end of the checkout process to let us know that you are part of a group.
How do I get to Cotham Park Rugby Club?
Click here for our location on Google Maps. For satnavs, use postcode BS8 3TF.
How do I get from Cotham Park to the Fiesta?
The walk to the festival site takes about 30 minutes, all off road apart from crossing Beggar Bush Lane to enter the Ashton Court Estate. The route takes you across the golf course (easy going on flat, short grass) and then follows the footpaths through the estate down to the Fiesta site. If you're not sure where you're going, our staff will be on hand to help with directions. You'll need to bring a torch to find your way after dark.
Do you offer early check-in?
We cannot guarantee that your pitch will be available before 1pm on your arrival day. However, you are welcome to arrive any time after 9am, park in our car park and use our facilities or visit the Fiesta site before setting up on your pitch later in the day. Please note that this does not apply to guests arriving on Wednesday 9th August - we will not be open until 1pm on this day.
Do you offer late check-out?
Unfortunately we are not able to offer late check-out. Pitches must be vacated by 1pm on your departure day.
Are dogs allowed?
Well behaved dogs are welcome to stay with us. You must also keep your dog on a lead while on the campsite. There is publicly accessible woodland next to the club, and of course the Ashton Court Estate, where you can exercise your dog off the lead.
Can I bring a barbecue or fire pit?
Barbecues and camping stoves are permitted and must be raised off the ground to avoid damage to the grass. We have some thermo-insulating bricks you can borrow to help with this, for example if you have a disposable BBQ. Please be aware that we will charge you for any damage to the grass. Campfires are not permitted - this includes fire pits and the burning of wood in barbecues.
Do you provide electric hook-up points?
Unfortunately not. Our campsite is a rugby pitch for the other 51 weeks of the year, and the players would keep tripping over them. You are very welcome to use any of the plug sockets in the clubhouse to charge electronic devices.